Stakeholder requests (order by priority)
为了帮助大家更深刻地理解利益相关者,请在第二章第一个作业的基础上完成下面的作业:
基于你关注产品的利益相关者,想想他们的问题,自己设定一些前提,做个简单的排序。

选做题:你列出的利益相关者面临的问题都有哪些可能的解决方案。
Appendix is the stakeholder list identified in the homework of Week 2. The analysis and sorting of the requests coming from some of the stakeholders is the homework of Week 3.
Actually every week we have a lot of requests from our stakeholders, let's take just a slice of them for the homework, shown as list below:
#1 Capability Manager: I will retire soon in end of March. R&R and all system permissions/authorizations will be changed to new personal in charge. Please arrange training session to him/her from system perspective;

#2 Regional users: We're informed that the original user account will be decommission after Company Active Directory Domain Controller server termination from global data center from late Feb to early March. We still need to use SSO for system login for daily operations.

#3 Supply Chain Management Logistics Manager: We have decided to open the market of our products new flagship premium model in several new countries. The customer master data and traceability data setup should be done before commercial flow starts. The first delivery shipment is planned in Week 20 this calendar year.

#4 IC Infrastructure team: Due to the cost reduction pressure, we have to terminate the global on-premises data center with deadline Jun 30, 2021. Please migrate all applications/services/database of your system onto the cloud before DC shutdown.
Obviously we can list them in below table for analysis:

As we're simply sorting the priorities above requests by deadline timing, we can conclude and plan the system modifications in the order below:
Assumptions:
We have enough business budget to proceed system modifications;

We have vacant IT resources for the implementation of system modifications;

We will not get new requests cutting in during the implementation of system modifications.
Appendix: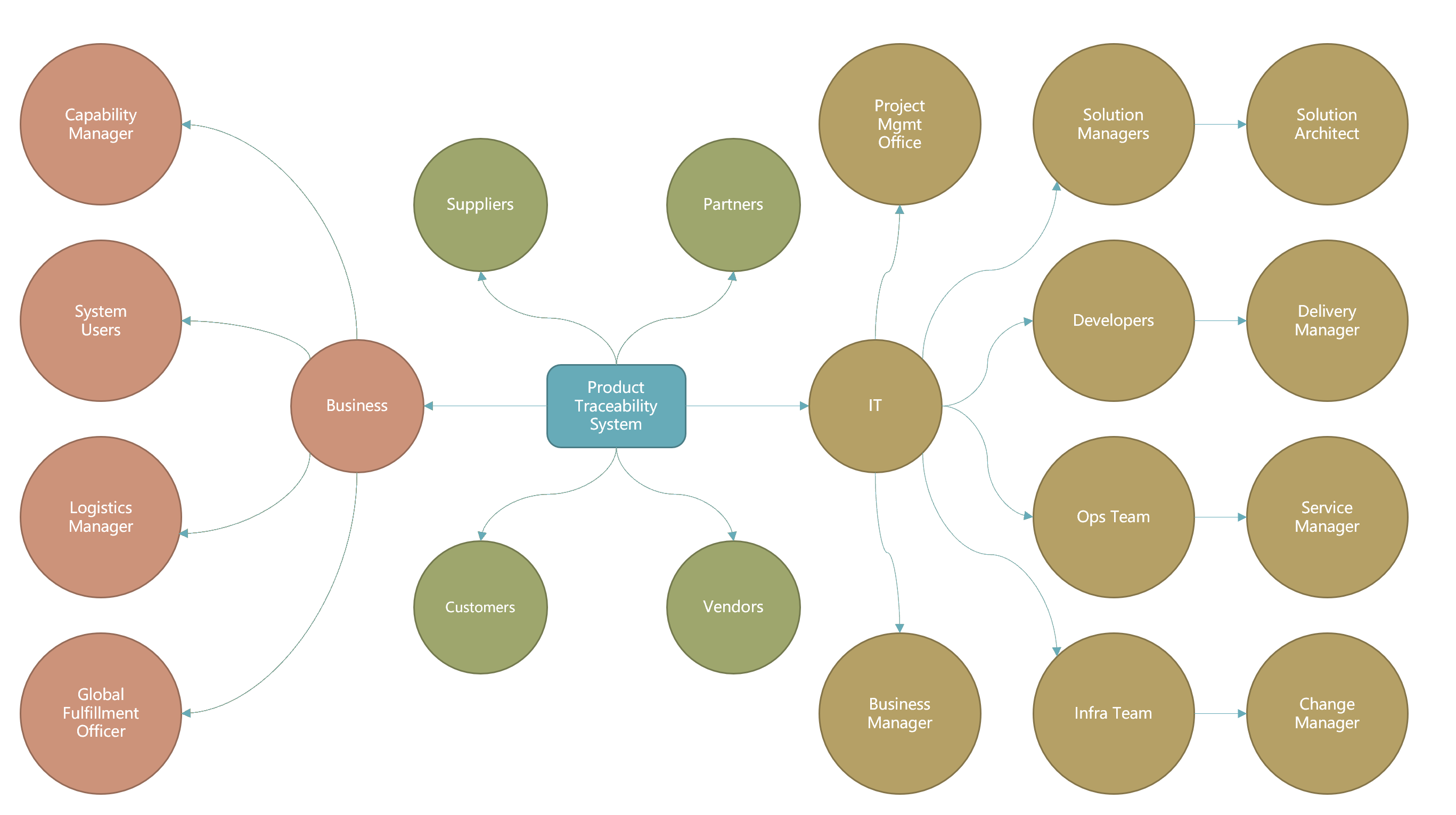 As the Solution Manager of the product traceability system within the corporation, I have analyzed and listed the stakeholders of this system as below:
[Business] Capability Manager who composes the roadmap of the system, plans the budget of the system, reviews the actual cost of the system;

[Business] Users who support business operations in the system;

[Business] Supply Chain Management Logistics Manager who takes charge of the process of point of delivery;

[Business] Global Fulfillment Officers who create/update purchase orders and return orders based on customers' needs;

[Suppliers] Factories that manufacture the products;

[Partners] Warehouses that fill up stock from factories and dispatch stock to end customers;

[Customers] Customers that get traceability report for goods receiving;

[Vendors] Global Customer Service Centers that provide after-sales warranty service to consumers;

[Vendors]Global Scrap Centers that execute local product scrap operations;

[Vendors] Global Repair Sites that perform advance repairs of the products;

[Partner]Integration Center that consolidates & shares data to downstream systems within corporation;

[IT] Solution Architect who oversees the architect of all IT solutions related to the system;

[IT] Solution Managers who deliver IT solutions of all system modifications to fulfill the requests/demands from business/supplier/partner/customer, or even internally IT;

[IT] Delivery Manager who tracks and traces the IT solution deliveries by developers;

[IT] Developers who implement IT solution designed by Solution Managers and reviewed by Solution Architect;

[IT] Service Manager who monitors the performance of IT Ops team and acts as the escalation point of SLA breaches;

[IT] Change Manager who controls the change requests of all IT solutions;

[IT] Ops team who support IT system operations after all IT solutions golive;

[IT] Infrastructure team who support on-premises DC and cloud services for the system;

[IT] Project Manager Office who governs and directs all IT demands/projects related to the system;

[IT] Business Manager who smooths the collaboration between business and IT team.